In today's Interweave newsletter, they announced a whole bunch of things including awards for books, the new editor for Interweave Crochet and it going quarterly, the acquisition of Quiling Arts LLC etc. All good changes I think.
And then at the bottom, there referenced building your own spinning wheel.
Now there is something that you need to know about me. I got into spinning because I found out I could make a spindle with a dowel, cup hook and a toy wheel. In no time at all, I had a ton of spindles put together, and then sought out fiber. After spinning the fiber, I tried dyeing the fiber. Three months later I was in my first spinning wheel, the Kromski Minstrel, a year later the Ashford Joy came along, and just 2 weeks ago, the Kromski Sonata entered my life. Here is pictures of Team Ceallach, left to right Katrina Kromski the Minstrel, Kromski Sonata, Ashford Joy. I did not notice until now that the Sonata finish is darker and richer than the Minstrel's finish. I think I like the finish of the Sonata better.
Here are the spindles that got me started. Part of me just liked making the spindles and finding a way to decorate them. As you can see, I have many many spindles. Because I have so many, I have an offer. Anyone wanting a spindle to try out spinning can comment here and we will work out the details to send you one offline. It will be one of the toy wheel spindles. First come first serve!
At some point along that journey, I acquired a pile of Spin-off Magazines from someone clearing stash that went back about 10years. In one was a plan for building a charkha. Here are some photos of the charkha, it was a lot of fun, but a little frustrating, and I have people at both the local Ace and the local specialty woodworking store that were fascinated by what I was doing. Seems that they get few folks building spindles or spinning wheels in. I don't know why!
In no time at all, I had a working charkha made and finished with nice woods. I started with a simple plywood, which may have been scrap from soemthing else. I used pine plaques glued together for the drive wheels, and pieced the mother of all together from cut lumber trim. The finishing touches were stain, and some marquetry trim around the edges, which lend it a lot of class. I have yet to varnish it in any way, but may not if I build another with the woodworker friend.
I like making tools to suit me where I can. It's creative, it's challenging and it can save money.
The best part is that the absolute best way to understand the mechanics of a spinning wheel is to build one. They are not terrribly complicated machines, although certainly the novice spinners would disagree, and so anyone of a mind to should be able to build a spinning wheel to suit them.
So I plan to call a guildmember that I know is a woodworker as well, and has been asking to build a charkha with me, since I have done it, and ask if he would like to build a charka and a little great wheel together.......I think he will totally be up for it!
Finally, Here is the skeinwinder that I built over the holidays. It was fairly easy to build and use. I can wind a pound of light worsted in 10-20 minutes. The circumference is 84 inches....I wanted something longer to get longer dye repeats.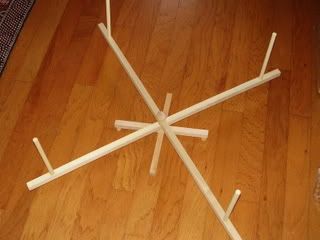 Oh and BTW, click on the title of this post to see the article on the Little Great Wheel.