Well not my panties, where is your head?!
Instead, here is the cotton that I have been spinning. This one started with the blue and white stripe that aged for so long that it is no longer available....so then came the indigo and the white which is waiting to be spun. I have no idea how much I will have, but the yarn looks to ply up to worsted weight, and hopefully there will be enough for a summer tank.
and the bag that I knit and felted with Becky's Angel gift from OSSP: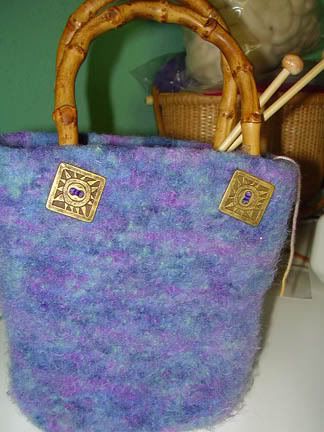 And finally some Superwash Merino Roving that I dyed on a guild dye day. It was a bit of an experiment and I need to get spinning, once the cotton is plied.
I should note that the bag was a very quick project knit with 2 skeins of Caron Felt It doubled....I would say total knitting time was maybe 2-3 hours. Good thing too, since for some reason, I have no patience whatsoever for my other more protracted knitting projects. So I am setting out to knit up the smaller projects laying around. I also have some CP icelandic in beautiful shades of blue, black and turquiose that I plan to tackle next. I may do a flat bag/clutch with it. We'll see what comes to mind.
And finally, here is Littlest as Fairy from last night.....that's Taboo who is a long drink of water....Littlest is examining Rock who was dressed up as a demon samurai complete with rubber mask and hands.....She had pretty much taken up a station as far as possible from him, 'cuase she was skeered.